Jun 9, 2020 07:31 PM Central
Julie Lewis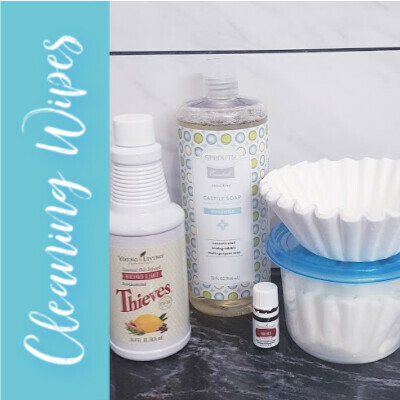 Simple Wipes…Superior Results!
Thieves Homemade Cleaning Wipes
Clean all your surfaces, counters, sinks, tubs, tables, toilets, car interior, mirrors…you name it! If you don't have Thieves cleaner, you're missing out, but in a pinch, you can substitute white vinegar. Read up on Why I Use Thieves Cleaner. These pack a powerful punch without leaving streaks.
The criteria I use for my recipes is they must be SIMPLE with EASILY ATTAINABLE INGREDIENTS, INEXPENSIVE and must WORK! This recipes checks all the boxes, so here it is!
Ingredients:

1 Cup Water
1 tsp Thieves Cleaner
1 Tbls Liquid Castile Soap (unscented)
5 Drops *Essential Oils (I use Thieves)
You can find inexpensive containers to fit your coffee filters at any grocery store or Dollar store. You may already have a stack of them in your tupperware drawer at home
After placing filters into your container, mix all ingredients and pour over filters. You may need to put the lid on and turn upside down a time or two, making sure the filters are soaked all the way through.
To use, pull out a filter or two and wipe away, cleaning any surface you can think of! I like to make a few of these and place in different rooms, especially the kitchen and bathrooms.
Bonus Tip:
Cut up some rags, or get a pack of inexpensive wash cloths, pack into the container and pour the solution over the cloths for REUSABLE WIPES. Used wipes can be tossed into the washer and used over and over again!