Feb 5, 2022 08:12 PM Central
Julie Lewis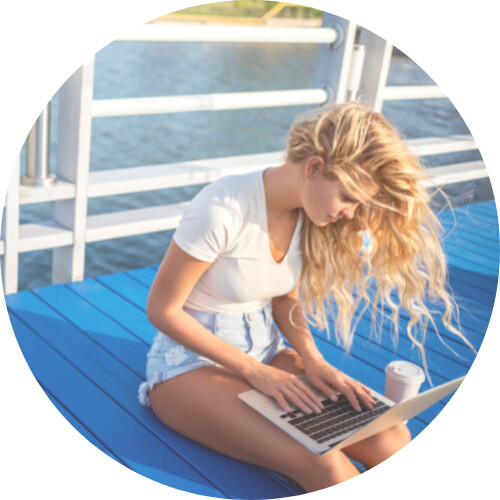 The truth is people are getting tired of a mediocre life. Living day-to-day, going to the same 9 to 5 job just to pay the bills and barely break even. We feel deep down inside that we were meant for more, but our hopes and dreams always seem to be just out of reach. The goal is retirement, but can you actually do the things you want to do after 65? Are you going to wind surf or go mountain climbing at 70 years old?
People are waking up and realizing that they need to start living now and stop waiting for the magical age of retirement.
For me, I was done with the office politics and boss breathing over my shoulder. So I took a bold step and started becoming a Digital Nomad.
What the Heck is a Digital Nomad?
Digital Nomads
are people who conduct their life in a nomadic manner while engaging in remote work using digital telecommunications technology.
Imagine being able to run your business from a remote location and experiencing life now. For me, it's sailing to the Caribbean and being able to earn an income from my laptop. This is the ultimate goal.
How do you become a Digital Nomad?
There are thousands of ways to generate income online from graphic design, product sales, influencers, course creators and coaches to name a few. With a little online research, you can launch a business over the weekend and start growing from there.
Create a few streams of passive income, downsize your life, pack a bag and go on an adventure of a lifetime! You'll soon realize that you can trade 40 hours a week for 10-15 hours and generate similar income, if not more!
It all starts with an IDEA
What lights you up? What is something you enjoy doing? What are you good at? When creating an online business, it's important to start with an idea that motivates you. Think about your hobbies, playing guitar, gardening, pottery. It can be as simple as that.
Next...design a product around your idea
There are so many ideas to generate an income online from eCommerce, digital downloads, to courses and online coaching and branded swag! It you like playing guitar, you can open an eCommerce store with your favorite accessories that you recommend, designing branded t's, or creating a course for beginner guitar.
Finally...share your idea with the world!
This is where most people struggle because it's easy to get lost in the online world. I do quite a bit of consulting on website development and I hear this all the time! People get stuck working on designing the perfect website without even having an idea or product to sell. Start small, learn as you go and build from there.
If becoming a Digital Nomad is something that intrigues you, download my free Idea to Income workbook that will help get you started.